Clever ways to make more of your garden for less money
Any renovation needs to have proper planning in place before you spend a cent.
You can make a huge difference when you renovate your garden on a budget that is workable, flexible and makes more of the little things.
Gone are the days of having to spend a small fortune to make more of your garden. There are many clever and ingenious ways to give your garden the makeover you'd love without breaking the bank.
It really all comes down to putting your ideas on paper and then using a bit of imagination and occasionally borrowing an idea or two.
There are a few things you need to keep in mind before you start any work on your garden renovation. With an eye on what is important and keeping to your plan, you can save yourself a lot of money and a lot of stress and disappointment.
The key points to a successful garden renovation
First of all, you need to work out exactly what you want from your garden.
Is it to use as an entertainment area, to grow your own produce, for children to play in or a mix of different facets that all have their own dedicated space.
Ideally, you will be able to work out what and where things will go. This is where a design plan makes a lot of sense and you can match it to the reality of your garden.
Making the most of what you have needs patience and proper planning. If you can prioritise the elements you want in your garden, then you can decide where things will go.
Size does matter
Knowing the full size of your garden and what is workable will help you make more of the space.
Measuring the space without any preconceived ideas of where things will go and where things are will be an essential part of the project.
There is no point pretending that you can use a space that is impractical, such as adding seating near a hot water unit or flower beds which will get little to no sunlight.
The other point to keep in mind is that just because you have always had your outdoor seating in the one place and your barbeque a particular spot that it should stay that way.
Try to think of what size area you need for each element of your ideal garden and then mix things around until it all makes sense. It is not dissimilar to arranging furniture in a room, so a paper version with cut-outs of what will go in your garden is a great way to get the bigger picture working best.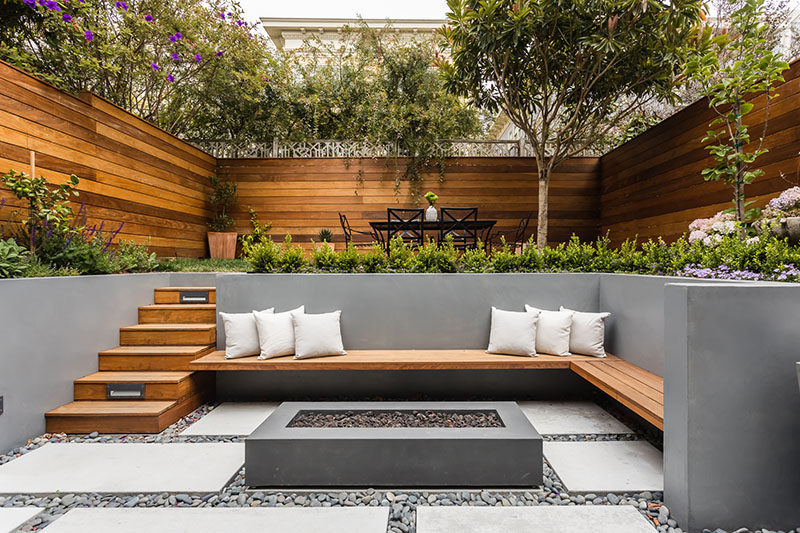 Using decorative effects in your garden
There are several intelligent ways to make your garden look like you have spent a good deal of money on it without having to make any heavy outlay.
With a little touch of style and an expression of your taste, you can turn what was an ordinary looking garden into something that seems close to a landscaped wonder.
The beauty is that you could use stonework and structural features that require a bubble crane and hours of professionals on the job, or you could do some simple work yourself and add some artistic touches instead.
For example, there may be an area that you need to hide away or disguise from view such as where your rubbish bins or hose will be stored. This is where some well-made timber cladding or the use of decorative timber screens can do more than cover up unwanted items or areas and actually add a stylish touch.
You could also consider using wire mesh panels for a special effect such as a vertical garden. This is an especially good choice if you have limited space for growing plants or flower beds.
More of Mother Nature
Believe it or not, many people operate under the illusion that to utilise plants and flowers in revamping their garden that it will take long hours and too much money.
Whilst it is possible to spend a small fortune on exotic trees, bushes and other plants, you can have a beautiful looking garden that all falls under a smaller budget.
Researching which plants and flowers you could grow in your own garden and how they can come together to enhance your outdoor space is a great use of your time. There are any number of online handy tips and resources that can help you work out what is achievable with your garden size and where it is located.
Making the most of natural wonders is often one of the cheapest ways to make a garden look fantastic.
The most important thing to remember is that you need to work out how much time, effort and resources such as a watering system will be needed to make and keep your new garden going.
If your time is too precious with other commitments, then it would be best to choose a low maintenance garden and one with native plants and flowers that require the least upkeep.
Other points of a garden to focus on
How you use your garden is integral to enjoying it.
Ask yourself a few key questions and be honest with your responses.
How much money and I willing to spend on my garden renovation?
Is your new garden for decorative purposes or practical ones?
What can I make of my existing garden and improve upon?
Am I willing to spend time and money on reworking things myself?
Can I afford professional help?
What are the must-haves for my garden and the nice to haves?
As with any budget, it is important to give yourself breathing space with how much you have to outlay in the case of the unexpected and then to stick to the amount you've allocated.
If your garden is one for entertaining and for little practical purposes, such as hanging out clothes or for children to play in, then you can be more imaginative with the design.
Any garden is susceptible to noise and activity nearby. If you have a noisy neighbour or you live near a factory or business that operates loud machinery, then think about where is the quietest area. There is no point setting up your entertainment area where you will hear an electric or nitrogen generator and the sound of air compressor parts at work.
It's possible to reduce any external noise with the placement of trees and bushes to absorb the sound. Similarly, there are ways to soundproof your garden and they won't cost you the earth either.
Your own budget-friendly garden
It is possible to pull off a garden renovation if you know what you want, what you need and how much you can afford to spend.
Looking around at what other gardens you admire and enjoy being in can provide inspiration and ideas for your own space. Another untapped resource is asking friends and family what they have done with their own gardens. You may get some handy tips on what can be achieved and discover any pitfalls to avoid.
From plants and flowers, screens and sculptures, even revamping your timber furniture or repainting things can more than spruce up your garden setting.
Making a few small changes can make for a much more enjoyable garden experience.